TOMTAR was featured in the Roofing BC Winter 2011-2012 issue.
Third generation roofers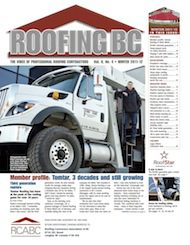 TOMTAR Roofing has been at the peak of the roofing game for over 30 years.
Robert Greenough learned roofing at his father's feet. Greenough is now general manager of TOMTAR Roofing & Sheet Metal Ltd. of Kelowna, and carefully taking the reins of the company his father Tom founded in 1980. Today, TOMTAR Roofing is one of the largest locally-owned roofing contractors in BC's central Okanagan, with its crews working across the region and as far east as Saskatchewan.
TOMTAR has one of the most advanced sheet metal shops in the industry – three computerized folding machines including one of only two Jorns Twinmatics bidirectional folding machines in Canada.
TOMTAR has been a member of the Roofing Contractors Association of BC for 30 years, but the Greenough's RCABC roots go even deeper – Barr & Andersen's Kelowna branch, owned by Robert's grandfather Harold Greenough in the mid 1940s was the first RCABC-certified roof contractor in BC outside of the lower mainland.
"RCABC membership means you are held to a higher standard," Greenough said. He praised the RCABC's apprenticeship program – which is often used to train TOMTAR staff. "We should get the word out more about the RCABC warranties, which are the best in the roofing business," he said. He agreed that concern may be addressed as the RCABC rolls out the new 'RoofStar' promotion of its warranty coverage.