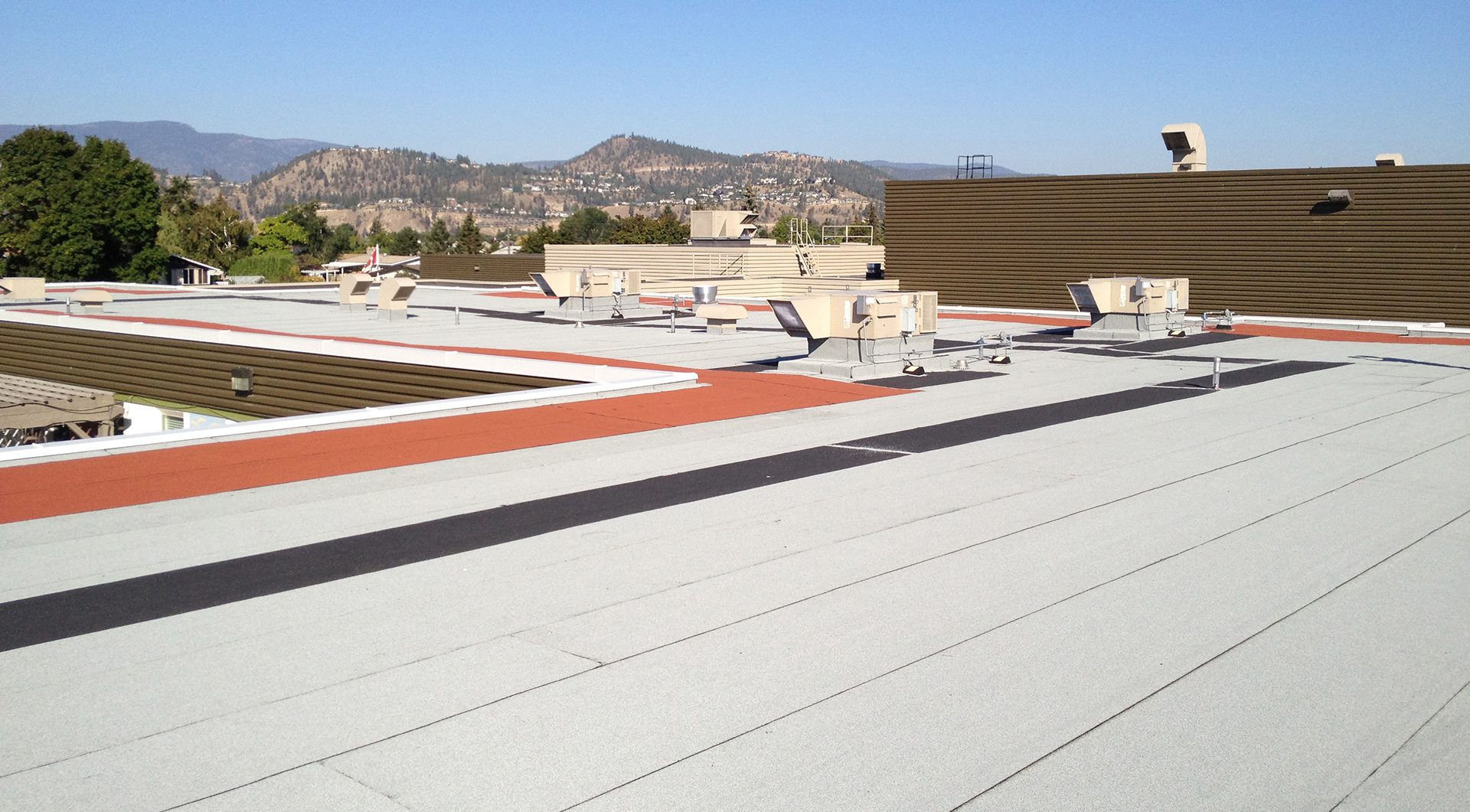 TomTar specializes in a number of commercial flat roof and low slope roofing systems.
SBS Modified Bitumen (Styrene Butadiene Styrene)
Commonly known as two-ply or torch-on, a modified bitumen roof is one of the most common flat or low slope roofing products used today. SBS has largely replaced the old built-up roofing known as "tar and gravel." This multi-ply system utilizes heat welding, by torch or robotic welders to fuse the two layers of membrane together into an extremely durable monolithic waterproof system. Alternatively layers may be fused with either cold or hot adhesives. SBS systems are utilized on all flat and low slopes as well as below grade and slab waterproofing.
This system is:
By far the most reliable roofing/waterproofing technology
Extremely durable
Easy to add penetrations (jacks, curbs, etc.)
Easy to repair
Offers a long life span
Capable of withstanding the harshest climates
Built Up Roofing (BUR)
Commonly known as "tar and gravel," built-up roofing (BUR) is one of the oldest forms of flat roofing available today. Consisting of layers or plys of reinforcing felts applied in either hot or cold bitumen or asphalt, BUR are known for their durability and built in redundancy, providing one of the most durable roofs available.
Due to new products and systems, combined with the limited availability of products necessary, built-up roofing is less economical today. However the quality and longevity are still unmatched in the right applications.
Liquid Applied Systems
Liquid applied systems can be cold or hot applied and range from vapour barriers to full waterproofing and can be used for parkades, foundations and planted green roofs. Commonly used systems such as hot rubber are an economical and proven system for the right applications.
Single Ply Roofing
Single ply roofing are typically composed of a vapour barrier, insulation, and the membrane. In lieu of insulation a gypsum coverboard is used.
EPDM (Ethylene Propylene Diene Monomer) synthetic rubber roofing
Economical
Fast
Suitable for large warehousing with no roof traffic
Long life span when properly maintained
TPO (thermoplastic polyolefin)
Solar-heat reflective system (ENERGY STAR® qualified and Cool Roof Rating Council certified)
Strong resistance to ultraviolet, ozone and chemical exposure
Heat welded
Light weight
Long life span when properly maintained
Highest puncture resistance of the single ply membranes
Produces no chlorine or dioxins
PVC (Polyvinyl Chloride)
Solar-Heat reflective system (ENERGY STAR® qualified and Cool Roof Rating Council certified)
Heat welded
High resistance to chemicals, grease, fire and punctures